Welcome to mybadgerhome.co.uk.
Whether you arrived here after receiving one of our leaflets, by word of mouth or via social media, our aim is to share our experience of dealing with Badger Building (E.Anglia) Ltd ("Badger") and the NHBC after discovering a serious defect affecting our home 17 months ago. We will let you decide whether what you read is in keeping with Badger's claim of "exceptional build quality and service" maintained by using "high quality building materials" (link).
We will shortly upload all of our supporting evidence and extensive research for the benefit of anyone else unfortunate enough to be in this position. However, for now, here is our story.
In June 2019 we noticed mortar falling out from our property. We contacted Badger & the NHBC to raise our concern. Badger's contracts manager visited and suggested they could "spray the walls with a product". We politely declined believing this was not an adequate solution. The NHBC then inspected (Badger declined to attend) and concluded that the entire house & garage required re-pointing to a depth of 25mm. Given how easily the mortar could be scrapped away (see video) and on professional advice we requested formal analysis of the mortar. We were told by the NHBC that this was not required.
In August 2019 Badger offered to undertake the required re-pointing works (link) (allowing them to maintain their NHBC rating & premiums). We agreed to this pending the results of a mortar analysis that we had now arranged ourselves.
NHBC Standards (6.1.14) state that mortar above dpc should be 1:1:5.5 (Cement:Lime:Sand) or designation 3 (BS EN 1996-1-1) (link). Our mortar was analysed by one of the leading UK laboratories and was reported to be 1:3.6:1:21.8 (Portland cement:lime:GGBS:Sand), "weaker than ANY designation given in BS 4551:2005"(link). We forwarded these results to the NHBC & Badger seeking structural investigation and reassurance. The NHBC acknowledged "the cement ratio is higher than the 5.5 (21.8) than would normally be expected" but that their policy covered only 'damage' and as such, no further investigations were required.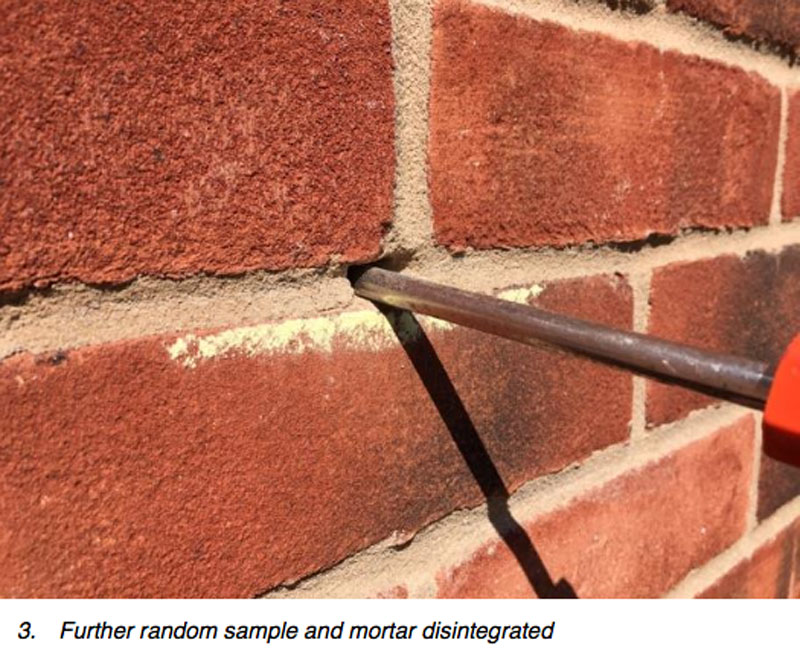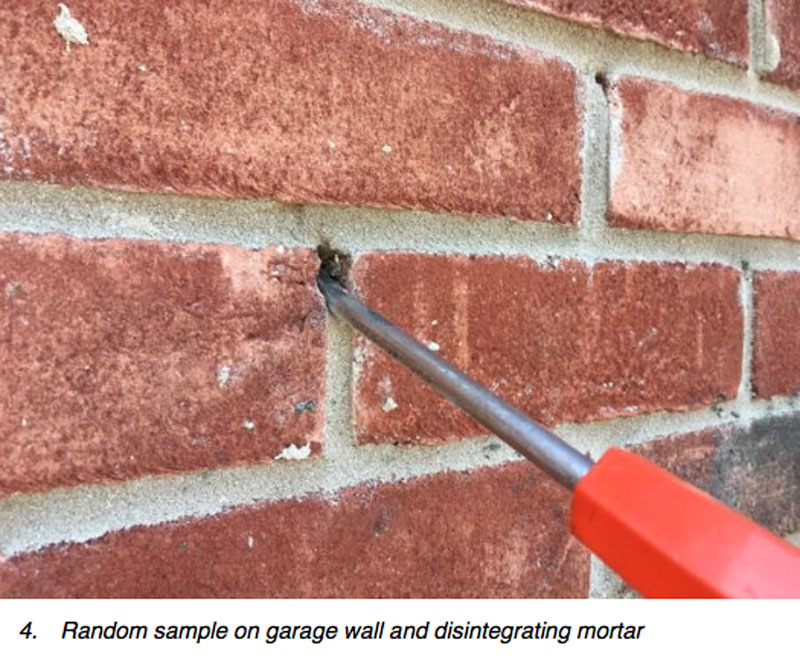 We therefore sought structural reassurances from Badger who collected further mortar samples for their own testing. Despite our requests, no structural survey was undertaken. Badger's samples were analysed by the same laboratory as our 1:3.6:1:21.8 sample yet their results were reported in a manner that we had been advised against. Despite this, Badger's results still ranged from 1:1.1:9.4 (at best) to 1:2.1:11.5 (at worst) equating to mortar designations (iv) & (v) to BS 4551:2005 (link). Badger's appointed engineer compiled a report on the mortar results and agreed with the NHBC that a 'pragmatic' solution would be repointing of the entire house & garage. Their report also however 'called into question' the integrity of the wall ties and recommended Badger contact the manufacturer of the mortar to discuss its suitability. To our knowledge Badger have not acted on this advice.
The mortar order sheet for our development suggests Tarmac M2.5 mortar was supplied to the site. In 2013 the NHBC issued a 'Technical Extra' (link) warning to its members regarding this  'low strength factory made mortar' which read…
In 2018/19, the Victoria Derbyshire programme featured a now infamous Taylor Wimpey estate in Peebles (Scotland) constructed from Tarmac M2.5 mortar (click to watch here & here). Due to significant concerns Scottish Borders Council requested an independent structural investigation into the estate which concluded that the M2.5 mortar " will weather, subsequently weaken and undoubtedly result in failure" (link).
In addition to our house & garage being affected, our garden wall is also worryingly unstable (see video below). This is very concerning given our young child has been playing in the garden and the busy public thorofare on the other side of the wall. In light of these findings and given the precedent set by Scottish Borders Council, we will be requesting South Norfolk Council undertake a full independent investigation of our estate citing public safety concerns. We will be seeking support for this from Mr Richard Bacon MP (South Norfolk) imminently.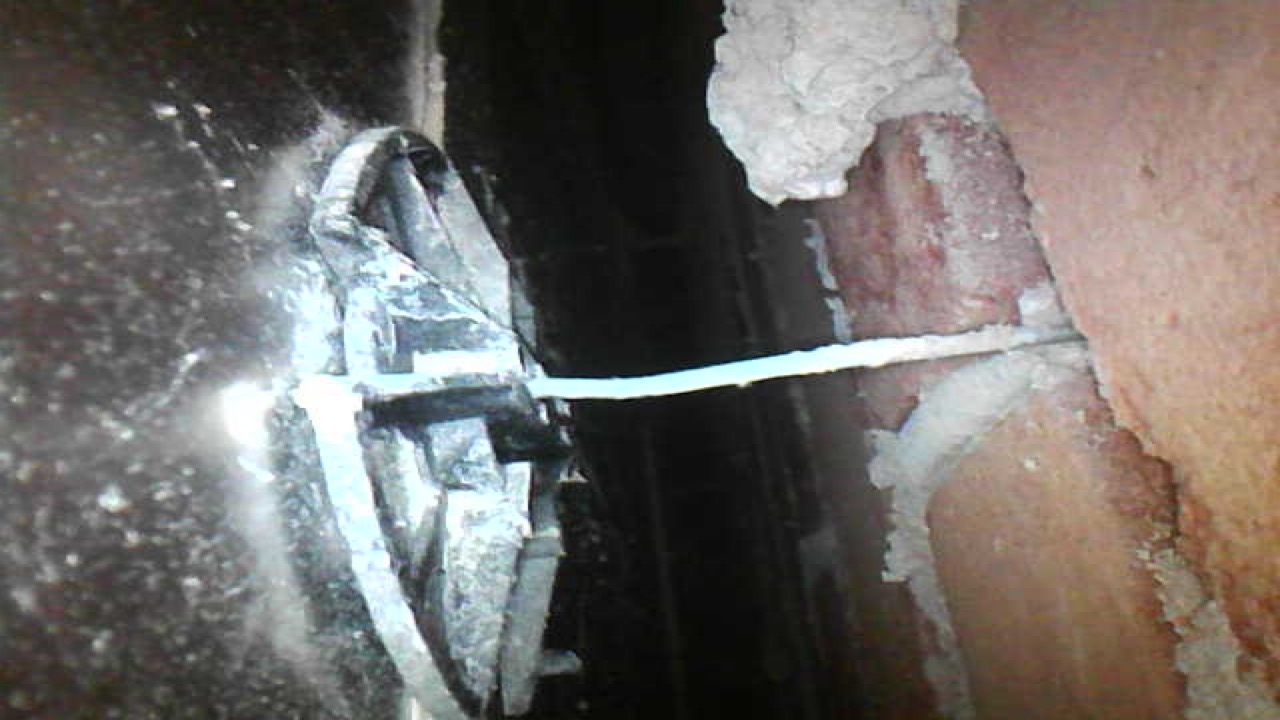 In February 2020 (5-months after Badger's own testing confirmed weak mortar on all elevations) we were unexpectedly notified by the NHBC that Badger had retracted their offer to undertake the re-pointing (link). No explanation was provided. The NHBC provided a schedule of works which listed the entire surface area of the house & garage to be repointed (link). We were offered £8,420.86 by the NHBC to complete the works ourselves and advised to use a reputable contractor. We were informed this offer was valid for 28 days after which it may be withdrawn.
Taking their advice, we approached the NHBC's remedial works contractor for the East of England. Their quotation (provided against the NHBC's own schedule of works) was £34,740. We forwarded this to the NHBC but were told the quote "appears to show the whole house being re-pointed" and that "this is not required…only localised pointing is needed to the affected areas" (link). We highlighted the contradiction between this statement and what was documented in their own schedule of works (link). In response, the NHBC simply commented that our claims investigator "acknowledges that there is mortar erosion to all elevations, but the whole house does not need re-pointing." (link)
Despite numerous communications the NHBC have repeatedly declined to revise their offer. This should be of interest to all Badger homeowners as it appears the NHBC policy provided with our home does not cover the true cost of the required remedial works.
It is important to state that we have never declined any offer by Badger or the NHBC to undertake the work directly. Badger withdrew their offer to re-point without explanation or even notification, leaving us in the hands of the NHBC. The NHBC have failed to provide any justification regarding how their offer was calculated. Neither Badger nor the NHBC have responded to our requests asking them to recommend a reputable local contractor who is willing to complete the required work for the offered £8,420.86.
We have now incurred significant legal and professional fees (currently £13,000, funded via savings & loans) in an attempt to resolve this situation. That is to say nothing of the stress and anxiety Badger's and the NHBC's actions have had on our young family's mental health. At no point have Badger offered an apology or explanation for their actions. In fact, despite evidence to the contrary (link) they have denied ever offering to undertake the repointing works.
In summary, Badger have retracted all responsibility from rectifying serious defects caused by them constructing our home from weak mortar that breaches minimum NHBC standards. They have willingly decided to leave us in the hands of the NHBC knowing that we have only been offered £8,420.86 towards the cost of the £34,740 works and nothing towards our £13,000 incurred costs. As a young family we simply do not have the ability, nor do we believe it is at all fair (given all of the above) for us to be expected to fund the shortfall sum of £39,319 required to resolve this issue. 
All we continue to seek is for the repointing works to be undertaken (or be provided with sufficient funds to allow a reputable contractor to do this), our garden wall to be made safe and our costs incurred as a result of Badger's actions/ in-actions to be fully reimbursed. It is telling that Taylor Wimpey funded the repointing works in Peebles (and provided an extended 20-year mortar guarantee-link) as well as reimbursing their customer's costs (link). Is it unreasonable to ask Badger, a company that appear to pride themselves on "exceptional build quality and service" (link) to do the same?
If you are concerned about the mortar on your Badger home you may find our pending resources section helpful. You may wish to formally request evidence that your house has been constructed from mortar that meets minimum NHBC requirements. If you have already noticed weak mortar affecting your home, in addition to notifying the NHBC you may also consider seeking specialist legal advice, especially if you are the original purchaser as a recent test case has suggested that non-compliant construction to NHBC standards may constitute a breach of contract (link).
Please follow us on social media for further content and updates. If you are in a similar position or wish to show your support, we would love to hear from you.
Twitter – @mybadgerhome
Facebook – mybadgerhome
Instagram – mybadgerhome
Email – Click here
Thank you for taking the time to read our story.
Badger homeowner (Summer close).